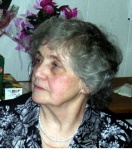 Kirichkova A.I.
ins@vnigri.ru
Specialist of stratigraphy, biostratigraphy, PhD in geology and mineralogy (1983), Professor (1998).
Senior researcher of VNIGRI.
Area of scientific interest: phyto-stratigraphy and flora of the Mesozoic.
Author of more than 250 publications, including 6 monographs on general stratigraphy of the continental Mesozoic strata and systematics of extinct plants.